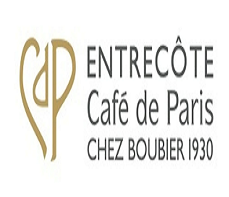 Entrecote Café De Paris- Café 1930
Entrecote Café De Paris-Café 1930 is a fine dinning steak restaurant who developed the world famous sauce named "Café de Paris" which recipe is still kept a secret till today. Enabled to launch an astonishing concept with an idea of offering a Single Menu Formula consisting of a Green Salad, 200 grams of Entrecôte Steak with "Café de Paris" sauce and homemade French Fries. This simple formula gained immediate worldwide fame and success. Many restaurateurs around the world tried to imitate our set formula and our "Café de Paris" sauce but never equaled our distinctive taste and texture.
Our motto is "Toujours Imitée, Jamais Egalée" meaning Always Imitated but Never Equaled.
Sunday - Thursday   10:00 AM – 10:00 PM
Friday - Saturday   10:00 AM – 12:00 AM